Tours
We currently do not offer tours due to storm damage to the property. We plan to re-open to the general public in 2022. Keep reading to find out more about our typical tour experience.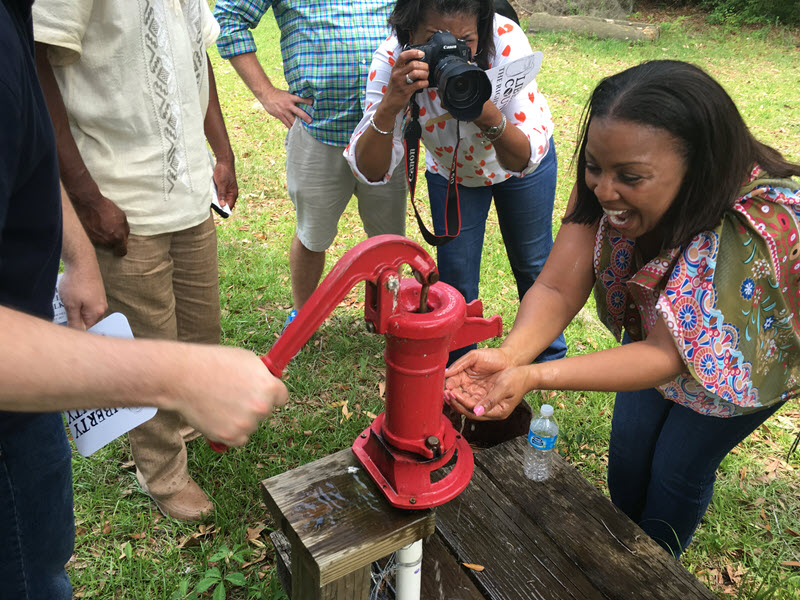 Seabrook Village Is Totally Authentic
Your Seabrook tour consists of tangible reminders from this rural, African-American past – a past with elements still prevalent in today's Seabrook community. Restored houses, personal artifacts, domestic gardens and the rural landscape convey the legacy of a religious, self-sufficient, turn-of-the century, African-American community.
Old Seabrook School
Seabrook's first restoration effort saved the old school building from destruction. The school desks were handmade by John Stevens, a former Seabrook student.
Gibbons-Woodard House
This 1890s house was severely damaged by a tornado in 2020. We are working to restore it as Eli Gibbons left it. It has a rural kitchen with a wood stove, a washstand, a featherbed and a replica of the original clay chimney.
Cane Mill
As a mule or an ox pulled the log, stalks of sugarcane were fed into the gears. Juice crushed out was then boiled in an iron pot until it thickened into tangy cane syrup. Such cane grindings were festive community gatherings, which lasted all day. Seabrook's antique mill grinds and boils local cane.
Sam Ripley's Corn Crib
The corn crib was used to dry and store corn. The crib was restored using original methods and tools. It is the scene of Seabrook's corn and grits grinding.
Delegal-Williams House
Home to one of Seabrook's early teachers, this building features many item from the Hakim Jones collection and an original quilt.
Bowens Farm
Eddie Bowens built this house when he was 16 and lived in it until he died at 96. In the house are exhibits including the Bowens Grave art collection. The Seabrook administrative office is also located here. The barn features a tool collection. The chicken coop and grape arbor are original.